Friendly Meetinghouse
Friendly Meetinghouse is a versatile and spacious event venue conveniently located near downtown Olympia, but nestled in a natural, forest-like setting. Surrounded by acres of park like grass, hedged by forest, this facility sits across the street from Olympia's 314-acre, waterfront Squaxin Park. The facility and surrounding land provides privacy, space and a large indoor venue for events.
A full kitchen, great room, patio, large, manicured field, ample parking and various amenities make this a wonderful facility for weddings, fundraisers, meetings, parties, or any other non-alcohol event.
To schedule a tour or reserve the Meetinghouse, call (361) 239-2708 or email us at:

Amenities include:
100-person capacity
Wi-Fi
Private parking lot
20 rectangular tables that seat six to eight each.
140 chairs
A projection screen
A piano
Full kitchen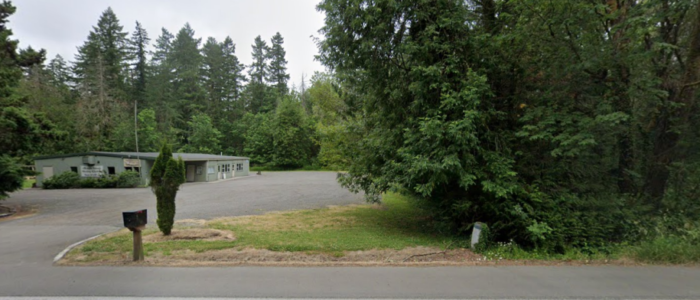 Location
Friendly Meetinghouse
3201 Boston Harbor Rd NE
Olympia, WA 98506, USA
Rates
| | | |
| --- | --- | --- |
| Day(s) and Hours | Standard Rate | Non-Profit Rate |
| Weekday Evening Hourly (Mon-Thurs) 2 Hour Minimum | $30/hr | $20/hr |
| Weekday Full Day Rate (Mon-Thu), 8 a.m. – 12 a.m. | $250 | $180 |
| Weekday Half Day (Mon-Thurs) 8 a.m. – 11:30 a.m. or 12:30 p.m. – 5 p.m.* | $125 | $90 |
| Fri-Sat Full Day Rate (Full Day Rental Only, No Hourly) | $400 | $300 |
| Friday evening before a Saturday event for setup (if building is not otherwise booked) | $50 | $50 |
| Deposit – 100% refunded if cancelled 8 weeks before event. 100% refundable post-event if left in good shape.** | $200 | $200 |
*Events extending past 5:00 p.m. are charged Full Day rate.
**Deposit returned if building and grounds are left in good condition, waster properly disposed of, chairs returned to set up diagram, kitchen cleaned, decorations removed. We will empty dishwasher you have started.
The meetinghouse is the Olympia Friends Meeting's place of worship. We provide event and meeting space as a service for our community and depend on renters to tread lightly and clean up after events.
How to Rent Friendly Meetinghouse
All rentals are managed by Olympia Friends Meeting. To schedule a tour or make a reservation, call (361) 239-2708 or email us at:

Need a Larger Space?
The Olympia Ballroom can hold 300 people and is in the heart of Downtown Olympia. Check out the Olympia Ballroom by clicking here. Email for information info@theolympiaballroom.com
Calendar

NOTE: Sundays before 5:30 p.m. and select Thursday evenings are not available. Please review the calendar below to check availability. Email rentals@friendlymeetinghouse.com with any questions.
Contact Us
Call (361) 239-2708 or email us at: